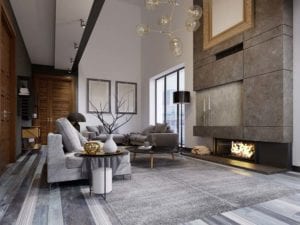 Ah, carpeting, it feels luxurious underfoot, it has a terrific plush look and it is available in a variety of colors, prints and materials. If you're looking to install carpeting in your home in this year, you will want to pay attention to the latest trends to give your home an updated look. This article will take a look at the carpeting trends for 2020 to ensure your home looks as stylish as possible.
Neutrals
Not only do neutrals go with just about anything, they are also a great way to incorporate the back to nature looks that are reigning supreme. Capitalize on this trend by adding natural accessories and potted plants. Make your interior pop by accenting with rust tones and terracotta furnishings.
Eco-Friendly Materials
In the past, carpeting has been frowned upon due to it containing materials that are harmful to the environment. Manufacturers are answering the call by providing natural fiber flooring that is 100% sustainably sourced. Deep pile, undyed carpets are another popular trend with a great underfoot feel that is inline with the environmental trend,
Luxury and Carpeting Trends
There will always be a demand for the luxury that comes with a velvet style pile or a chunky loop design. These are perfect for bedrooms and home offices and they bring hotel-style opulence to interiors. Consumers can expect to see the eco-friendly trend to come into play with these high-end carpeting styles as well as many will be made with natural, biodegradable and renewable fibers.
Bold Colors Choices
Designers are getting braver in their color choices and carpeting will be no exception. If you are looking for warm tones, forego a blah beige. Opt instead for rich greens, mauves, chestnuts and quartz. If you want colors that really pop, teals, dark and bright reds, deep blues and even purple tones will do the trick. Rainbow patterns and Aztec designs can bring these colors together to brighten up your rooms.
Patterns
Patterns are a great way to express creativity in your interior design. Homeowners should feel encouraged to mix and match patterns to give their rooms an exciting look. Animal prints, florals and stripes are all expected to be big in 2020 carpeting looks and they can be incorporated tastefully when using neutrals and subdued tones.
Geometrics
Another print option, geometrics are being seen more often in current interior design trends. When it comes to carpeting, herringbone is one way to play with shapes and colors. Button and ribbon patterns and patchworks are other geometric trends that will give a modern look to your carpeting.
Carpeting provides a soft, comfortable surface on your floors and the patterns, colors and textures you use can give your home a terrific updated look. What type of carpeting will you be installing in your rooms? Let us know how we can help you with your next project!