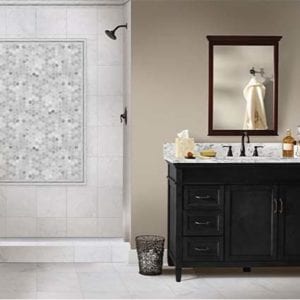 With the new year coming, a lot of homeowners are thinking about remodeling projects. A bathroom remodel can be a great move transforming your bathroom into a spa like sanctuary while adding value to your home.
Tiling is a big part of the bathroom aesthetic. It can be used in the shower, as a backsplash for the sink, for the flooring and more. Therefore, you will want to make sure the tiles you use represent the latest trends in home décor.
This article will take a look at some of the top trends in bathroom tile to make sure your home is as stylish as it possible.
Graphic Patterns
If you want to give your bathroom a bold look that lets you express yourself creatively, you will want to opt for tiles with graphic patterns. Whether you are going for subtle hues or bold, vibrant colors, the intricate patterns have what it takes to give your bathroom a unique look. While encaustic ceramic tiles seem to be the leading trend in patterned tiles, porcelain styles are following suit and more options are expected to be available for homeowners in the coming year.
Matte Finishes
Glossy tiles will provide a dramatic effect and give your bathroom an elegant look overall. And while many still love this look, matte is beginning to take over as a low maintenance alternative. Matte tiles do not show smudges and watermarks as easily as glossy tiles so many find them to be a preferred option. They are also great for giving an understated elegance to bathrooms.
Subway Tiles are Becoming More Interesting
Subway tiles have been present in bathrooms as far back as many of us can remember. As a result, they are often thought of as boring and commonplace. Well, not anymore. In 2020, we can expect to see subway tiles being offered in a variety of colors, larger sizes and unique design patterns. Paired with contrasting grout, the new subway tile look can significantly elevate your bathroom's style.
Dimensional Tile
While colors and patterns are both elements that make your tiling stand out, we can also expect unusual shapes to take the look of our bathrooms to the next level. Squares and rectangles are all well and good, but in 2020 we can expect to see stand out shapes like hexagons, octagons and more. Homeowners can capitalize on this by using the shapes to create unique patterns and by incorporating different colors that repeat throughout the space.
If you are looking for a change in your home décor in 2020, your bathroom is a great place to start. The new trends in tiling will help you create a look that will wow anyone who sees it. What tiling trends will you be using to make your bathroom unique?
For information on the latest trends or help on your next project check us out!