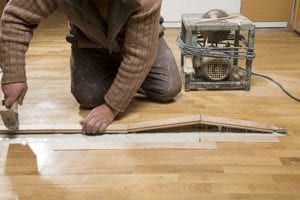 Remember that great, shiny look your hardwood floors had when you first installed them? Are they starting to look a bit dull and worn? Are they showing signs of damage? Fortunately, refinishing your hardwood can solve that.
Refinishing your hardwood involves buffing the surface to get rid of scratches and wear. If damage is deeper sanding and refinishing may be necessary. If you are wondering if your hardwood floors can benefit from a refinish, here are five your hardwood floors need to be refinished.
Water Damage
If your floor is severely water damaged, to the point it is warped or buckling, it may need to be replaced completely. However, if there is a small area with staining, a refinish can remedy the problem.
Extensive Scratches
If you have a hardwood floor, scratches are pretty much inevitable. If scratches are cosmetic only, you can use your judgment to decide if you want to refinish. However, if the scratches are so deep that they are going past the stain and penetrating the wood, that opens a pathway that allows even the smallest amount of water to cause damage. In these cases, refinishing will be the best way to protect your floors.
Large Gouges or Chips
Not only are these unsightly, they are also even more likely to be problematic when it comes to increasing the risk of water damage. If you have large gouges or chips in your flooring, refinishing will be necessary.
Gray Discoloration
Some may think that gray discoloration is a sign of aging. However, it is really a sign of water damage. Over time, the polyurethane protection wears off flooring allowing water to seep in. When the flooring absorbs water, oxidation occurs and the flooring turns gray. This is a sign that you need a refinishing and a new stain needs to be applied.
Splintering and Wear in Floors
When hardwood wears down it starts to splinter. Splintering is unattractive, it can lead to injuries and it increases the likelihood that water damage will occur. If you see signs of splintering, make refinishing your floors a priority.
You Want a Change
A refinish isn't always about repairing damage. It's also a great opportunity for homeowners to give their floor a new stain.If you feel like you need a change, refinishing your flooring allows you to get a new and exciting color that can really spruce up your home. If you think it may be time to get your hardwood floors refinished, Ambrose Tile and Carpet can help.  We will assess the damage and work within your budget to find a solution that suits your needs. Then we will provide the quality service that is necessary to get your hardwood floors looking great in no time.
Hardwood floors are an asset to any home. If your flooring is worn, a refinish is a great way to get back that 'just installed' look you remember. Call Ambrose Tile and Carpet to get your rooms looking their best.