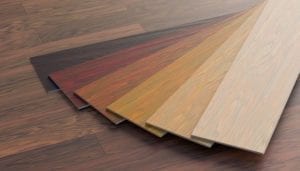 You can't talk about the latest kitchen flooring ideas without talking about the latest kitchen hardware trends. Natural is the theme of this year's décor trend. Warm tones with sustainably sourced materials pervade. Copper meets quartz. Bamboo complements cork. Concrete completes steel. It's happening in homes and businesses across the country. In this article we will talk about a few of the top flooring trends of 2019!
Copper Meets Quartz
The combination of copper and quartz blend beautifully in bathrooms, kitchens and living rooms. Natural stone like quartz makes an inviting flooring option. It proves durable and less slippery than other options, handy if you have kids. It can get a bit chilly, so toss down a few warming rugs. In kitchens and bathrooms, sinks and fixtures in copper add to the warmth. While quartz can also complete the look as a countertop material. In the living room, install an electric, gas or wood burning fireplace in copper.
Bamboo Flooring Complements Cork Flooring
Bamboo grows quite rapidly making it a sustainable choice. It provides a natural flooring or wall covering option that adds warmth and a unique grain. The strength of bamboo also makes it ideal for high traffic floors. The inexpensive cost makes this an affordable option. Use cork to complement it. Cork can also work as a flooring or a wall covering option. If you need to stand for long periods, the softness of cork makes it a cozy comfort. It also insulates to help keep a room warmer and creates a sound barrier. This earthy combination can work with either as the floor material which means you can alternate room designs. Cork makes a great choice for both bathrooms and kitchens due to its durability. It's anti-microbial nature and the fact that it is hyper-allergenic are just added bonuses.
Concrete Completes Steel
Concrete completes steel in many industrial settings, but this contemporary choice also brings durability and edginess to kitchens, bathrooms and entertainment rooms. Perfect in high traffic areas, you can give concrete a variety of looks depending on whether you polish, stain, or wax it. You can comb or graft in designs or other materials to achieve various finishes. Common choices include earthy looks combined with neutral walls and Scandinavian and Hygge design styles. In the kitchen, stainless steel appliances, sinks and fixtures blend perfectly with the hearty flooring that also makes a hearty countertop choice. Have it properly sealed so you can avoid cracks.
Finishing It All Out
The little things finish out your remodel or new décor. In the bathroom and kitchen, the cabinet and drawer hardware proves key to this. Choose pulls and knobs that complement your flooring and wall choices. You can easily find options in copper and steel. Brass and nickel-plated brass also work well in most kitchen or bath designs and would go well with the bamboo and cork combination. Include an island or mobile workstation in your kitchen design and make it match the rest or contrast the materials by reversing them from the rest of the room. Today's trends go for a modern look that wears well and provides a cozy, but sleek look.
Looking for help on your next project? Let us know!