Hardwood Floor Installation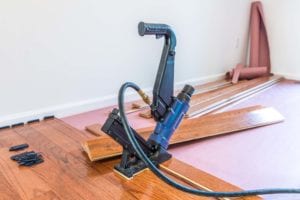 So you've decided to go with the timeless look of hardwood floors. There are so many reasons that hardwood is a great choice. It can add value to your home, warm up a room, and is easy to clean. It even helps with allergies and asthma because it doesn't harbor dust or allergens. Our certified installers have experience putting in hardwood floors in all sorts of environments. They know the best techniques for wherever you need flooring installed.
For solid hardwood, we use a staple down technique over a vapor barrier on the rough flooring which is then sanded using a dustless method and then stained and sealed on site. This method allows for a smooth consistent look in the finished product. The finishes we use are Glitsa, Bona HD, or polyurethane depending on the environment and the desired look. With engineered flooring, we use a glue down method over a vapor barrier.
The range of colors, styles, and patterns of hardwood are limitless. We carry a wide range of brands and materials to choose from including pet-friendly and eco-friendly.
Solid versus Engineered
When you have the option, to choose, we will generally recommend solid hardwood flooring. The reason for this is that it will last longer and can be sanded and refinished several times over its life. Also it's often easier to repair and match if pieces have to be replaced later. However, there are some real benefits to engineered hardwood flooring as well. It can be installed on concrete and also below grade (underground) which means that it's ideal for finished basements. Often it can be less expensive as well. The challenge is that it cannot be refinished and is more difficult to repair.
How can we help?
The good news is that you can schedule an estimate with us and we can walk you through all these decisions. You will have the opportunity to ask any questions you might have, tell us about your specific needs, and whether you have a budget in mind. Our experienced staff will be able to take all these factors into consideration in helping you make this decision without confusing you with insider technical jargon. We want you to understand exactly what you are getting and why. Providing you with that kind of Old Fashioned Service will ensure that you get the best value at a price you can afford. We can even help you with financing!
Use our online scheduler or give us a call at (847) 603-1658 to set up your appointment today.