Carpet Installation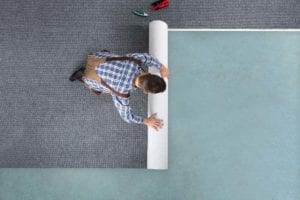 Carpet is a great choice for so many reasons. It can add value to your home, warm up a room, act as a sound buffer, provide extra comfort, and even add insulation. Our certified installers have experience putting in carpet in all sorts of environments. They know the best techniques for wherever you need carpet installed.
We are able to do both glue down or tackless installs depending on your unique needs. If we're installing on stairs, we can do waterfall or tailored. The best part of all that is that we'll recommend what is best for your space, so you don't have to know. In addition, all our carpet installs include 1/2 inch 8 lb padding. We use that type because it is the best in terms of comfort and long life. Many of our competitors consider that type of pad an upgrade.
The range of colors, styles, and patterns of carpet are limitless. We carry a wide range of brands and materials to choose from including pet-friendly and eco-friendly.
Carpet styles
There are so many styles of carpet all with a different look, feel, and performance. Do you need berber carpet, frieze carpet (aka new shag), plush carpet, shag carpet, or something else?
Carpet Fabric
What about the fibers? How do you choose between nylon carpet, olefin carpet, PET polyester carpet, smartstrand carpet, wool carpet, and others? These choices can affect the durability, life, and endurance of your carpet.
How can we help?
The good news is that you can schedule an estimate with us and we can walk you through all these decisions. You will have the opportunity to ask any questions you might have, tell us about your specific needs, and whether you have a budget in mind. Our experienced staff will be able to take all these factors into consideration in helping you make this decision without confusing you with insider technical jargon. We want you to understand exactly what you are getting and why. Providing you with that kind of Old Fashioned Service will ensure that you get the best value at a price you can afford. We can even help you with financing!
Use our online scheduler or give us a call at (847) 603-1658 to set up your appointment today.